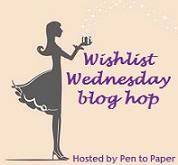 Wishlist Wednesday is a book blog hop (hosted by
Pen to Paper
) where we will post about one book per week that has been on our wishlist for some time, or just added (it's entirely up to you), that we can't wait to get off the wishlist and onto our wonderful shelves.
The book that is on my wishlist is Bad Feminist: Essays by Roxane Gay. Here is the book description:
A collection of essays spanning politics, criticism, and feminism from one of the most-watched young cultural observers of her generation, Roxane Gay.
"Pink is my favorite color. I used to say my favorite color was black to be cool, but it is pink—all shades of pink. If I have an accessory, it is probably pink. I read Vogue, and I'm not doing it ironically, though it might seem that way. I once live-tweeted the September issue."
In these funny and insightful essays, Roxane Gay takes us through the journey of her evolution as a woman (Sweet Valley High) of color (The Help) while also taking readers on a ride through culture of the last few years (Girls, Django in Chains) and commenting on the state of feminism today (abortion, Chris Brown). The portrait that emerges is not only one of an incredibly insightful woman continually growing to understand herself and our society, but also one of our culture.
Bad Feminist is a sharp, funny, and spot-on look at the ways in which the culture we consume becomes who we are, and an inspiring call-to-arms of all the ways we still need to do better.

I want this book because lately I've realized I may not be as much of a feminist as I think I am. Between worrying about my gray hairs, wrinkles, and #womenagainstfeminism I'm questioning what it really means to be a feminist. I feel like I'm a bad feminist and I could definitely relate to these essays. According to this article though
Roxane Gay is "Not Such a Bad Feminist After All."